Attorney Daniel Hynes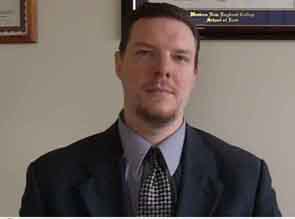 Attorney Dan Hynes (The N.H. DWI GUY) devotes his practice to criminal defense, with a majority of his practice being DWI Defense. Attorney Hynes literally wrote the book on drunk driving and drugged driving defense in New Hampshire. One edition of the book he gives for free to his clients charged with dwi. The other version is for other New Hampshire Lawyers to help people charged with DWI.
Besides helping you with a criminal case involving driving under the influence, he has significant experience representing more than 100 clients at administrative license suspension hearings related to either testing above the legal limit, or refusing a chemical test.

He is one of only a few lawyers in New Hampshire who is a certified Standardized field sobriety test instructor.
He also has completed training in the Drug Recognition Expert course overview to further advance his knowledge in DWI Drug cases (prescription or illegal drugs).
He owns an Intoxilyzer 5000 (The breath test machine used throughout the State). He can go over the test with you to see if the officer made any mistakes in administering the test. Such as observing you constantly for 20 minutes, or not correctly capturing the sample tube, or otherwise not properly administering the test by following all of the SAF-C regulations.

Attorney Hynes has experience successfully handling all types of DWI cases, from first offense, second offense, third offense, aggravated dwi, felony dwi, underage dwi, dwi drugs, blood test cases, and breath test cases.
You can see more of his training / credentials at
http://www.nhdwiguy.com/certs.html
Attorney Daniel Hynes represents clients charged with DUI everywhere in New Hampshire and has appeared in more than 25 courts throughout N.H.
Presently, DWI defense is all he does. If you are charged with a crime other than driving under the influence, or need help with another legal matter, other Attorneys with Liberty Legal Services may be able to help. Give us a call to discuss your options and case.
Attorney Hynes has significant experience going to trial. This year, Dan Hynes was recognized for his trial skills and was selected as a Top 40 under 40 Lawyer in New Hampshire by the National Trial Lawyers Association. This prestigious award is given to lawyers based upon merit, and is based in part upon peer recommendations of other lawyers who are familiar with the Attorney's ability.
Attorney Hynes feels it is important to keep up on seminars and training. Recently, he completed an extensive trial academy with the NHAJ.
Attorney Dan Hynes has experience appearing before, filing cases, or representing clients in numerous courts and agencies including:
Superior Courts, & District Courts throughout New Hampshire and Massachusetts
New Hampshire Department of Motor Vehicles (DMV)
Massachusetts Registry of Motor Vehicles (RMV)
Memberships:
New Hampshire Association for Criminal Defense Lawyers
National Association of Criminal Defense Lawyers
New Hampshire Association for Justice (Formerly NH Trial lawyers association)
Attorney Hynes is Admitted to practice law in Massachusetts and New Hampshire.